How To Get Into To Travel Group Boards on Pinterest
There is a long way or a short way. Choice is yours. Getting into quality travel group boards is not easy and it takes a long while.
We been there.
This is one of the reason Pinference the worlds first Pinterest group board marketing agency was formed.  If you are really serious about growth from Pinterest, you need as many travel related group boards as possible. Check our one month to three months group board packages with guarantee results.
The Top 5 Travel Boards on Pinterest
If you're old enough, you will remember that people used to save photographs and clippings of traveling to various places. You might have fond memories of taking out these photo albums and looking over your past travels when pangs of wanderlust come over you. Those days are long gone now thanks to the rapid advances and changes that the internet has brought to our lives.
Pinterest is a major social networking platform that promotes the sharing of images related to any number of topics. This means that when you get the feeling of wanting to travel now, you can simply go to travel related pages on Pinterest and feast your eyes out with all the gorgeous images of adventurous locales.
There are numerous group boards and profiles on Pinterest that are dedicated solely to travelling and uploading images of faraway and exotic places. If you are a regular Pinterest user, it's almost impossible for a single day to go by without coming across photos of beautiful places from all over the world. These images might kindle a desire in you to go visit these places.
If you are planning to go on a vacation sometime in the future, then you can use Pinterest to plan almost every step of your travel plans. Keep reading to find out about five of the best Pinterest boards dedicated to sharing images of faraway destinations, which you can use to plan your next vacation.
#1. The best board for travel tips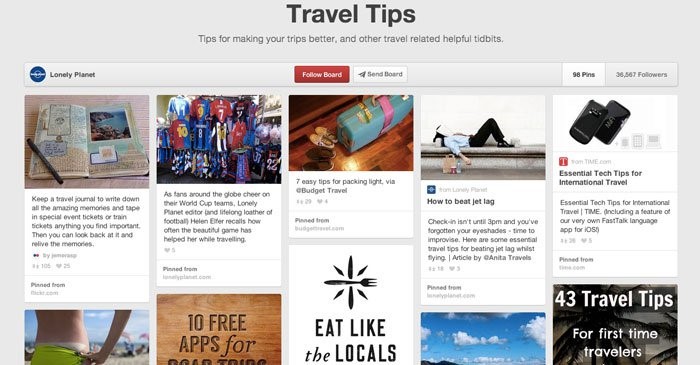 This board is a great resource provided by the people over at Lonely Planet. It is updated frequently and these updates include the latest changes in infographics regarding various travel destinations. This board also provides tips and articles about how to go about budgeting for your vacation, how to pack efficiently and how to avoid being scammed.
If you are planning to travel to exotic places for your next vacation, you should bookmark this board to get the latest information regarding your destination.
#2. Places to visit before you die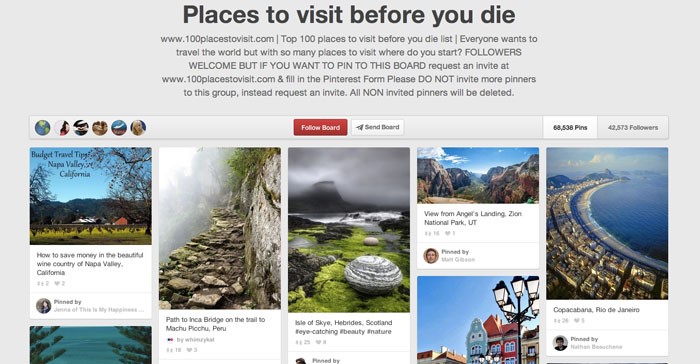 Places to visit before you die is an excellent board that is dedicated to providing coverage of various travel destinations that you may want to visit at least once in your lifetime.
This is an active group with almost a thousand people pinning high quality content there daily. On a typical day, you can come across pictures from all over the world, from Africa to the Canadian wilderness. So if you are looking for inspiration about where to travel for your vacation, then this is a must visit board.
#3. Get inspired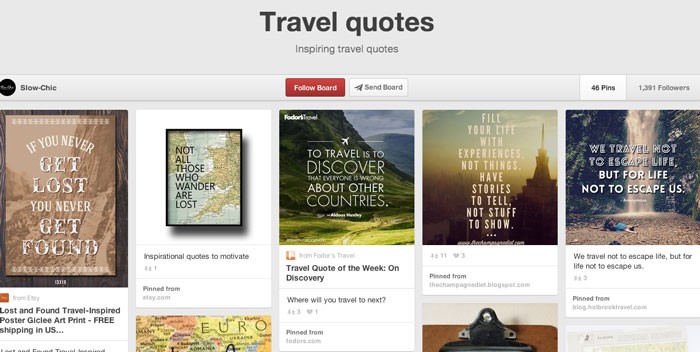 This is a great board that has some genuinely profound and meaningful quotes and other content that will inspire you to travel and explore the world. This travel quotes board by Slow Chic is an excellent resource to find inspiring images along with inspiring quotes to motivate you to travel and enjoy the world.
#4. Excellent photography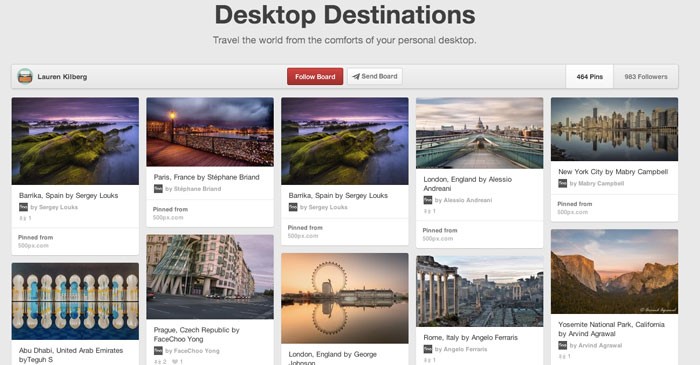 This is a board that is for the discerning traveler only. The owner of this board is Lauren Kilberg and only beautiful and stylish images are allowed to be pinned there. Desktop Destinations will have you drooling at the images of amazing places from all around the world.
#5. Traveling for foodies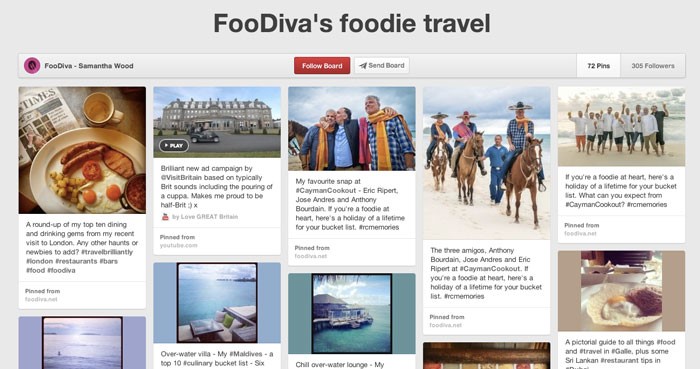 FooDiva's foodie travel board will tempt any lovers of food and travel. This blog is managed by an award winning food blogger and restaurant reviewer, Samantha Wood. This board compiles images from all over the world that highlight the cuisine and foods of those areas. You will find excellent photos of food as well as exotic scenery in the images pinned on this board.
We hope that this article will provide you a good starting point to start planning your next vacation. If you have any queries, leave a comment below. Browse our packages and save yourself the time and effort required to join group boards.