The Beginners Guide to Marketing on Pinterest to Boost Your Reach
If you have a business website or blog, then you've probably tried using Twitter and Facebook to increase traffic to your website. However, there is an emerging and growing social media platform that beats both Twitter and Facebook when it comes to highly targeted and converting traffic.
That network is Pinterest. When you pin something on Pinterest, it has a reach 100 times more than a Tweet. This is why more and more businesses are using Pinterest to market their products and services. Even Fortune 500 companies have begun to market themselves on Pinterest, which shows how important the network has become.
There are almost 70 million users on Pinterest, so it is an excellent tool to reach a large number of potential customers. Among the 70 million Pinterest accounts, 500,000 are business accounts, while the rest are personal accounts.
You can create your own business account for free and use the many features available to business account holders. There are many differences between business accounts and personal accounts. Business accounts have features that focus on analysis, conversion and possible sales. Most of these features are free and some are paid features, such as promoted pins.
Business accounts have terms of service that are slightly different from the terms of service for personal accounts. Some basic rules for business accounts are:
Do not spread spam nor promote it by asking people to comment again and again.
Do not "run a sweepstakes where each pin, repin, or like represents an entry. [or] ask pinners to vote with a repin or like."
Do not hold contests or promotions too often.
Do not request people to endorse or sponsor your business.
Pinterest is a unique social media platform because it actively creates educational material to teach users how to properly use it for their benefit. Pinterest even holds interactive workshops in order to connect with pinners. They also hold webinars for small resources and give advice about how best to use resources.
Today we're going to be sharing tips for bloggers and website owners who have Pinterest business accounts on how they can improve their reach.
#1. Utilize Pinterest analytics
This is a relatively new feature to Pinterest which is extremely useful for Pinterest business accounts. Once your blog or website has been verified and you have gotten a business account, you will be able to access analytics.
You can use these  analytics to find out invaluable information and statistics about your Pinterest account such as the performance and repin rates of your pins, etc. Analytics are also great to figure out which of your strategies are working and which aren't. In this way, you can constantly keep on improving the quality of your pins and Pinterest profile.
#2. Use rich pins
There are five different varieties of rich pins. All these types of rich pins have considerable impact on increasing your reach compared to normal pins. Rich pins include real time stock and price updates, links to your website or blog as well as interactive map locations.
#3. Stay in the loop about new Pinterest tools
Along with the recently added features for business accounts, Pinterest has plans to introduce even more tools and features in the future to help you market your business and boost traffic to your website or blog. The currently available features are; Promoted Pins, the Pin It Button and the Widget Builder.
You can stay updated about any new features by joining the newsletter delivered by Pinterest. One of the new upcoming features is going to be the Buy button, but you can also give it a try right now with Shopify.
#4. Connect with Twitter and Facebook
Business accounts on Pinterest are different from personal accounts. Your business account will not automatically provide a link to your Facebook page or twitter account. This means that you will have to add a Facebook and Twitter tab to your Pinterest home page and connect your profile.
#5. Learn how to create popular pins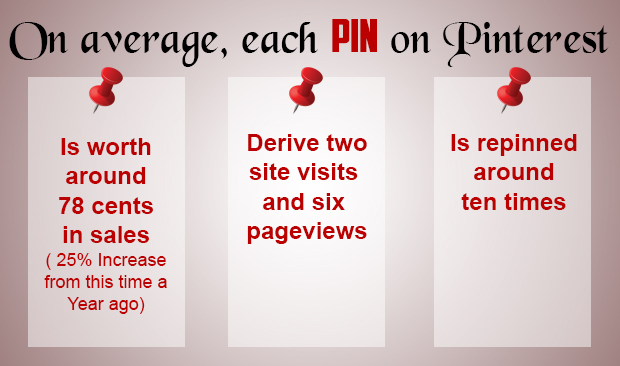 If you read the statistics on the image above you'll see how Pinterest excels at engagement with your potential customers.
Pinterest is mainly a visual search engine. Thus, similar to how blogs are for content writing, Pinterest is used to store and share images. So by investing time and effort into developing a reputation on Pinterest, you will slowly get to the top of search results for keywords related to your business.
So stop wasting time and get started with pinning content on your Pinterest profile page as well as on group boards. To get more visibility in search results, you will need to develop an understanding of the culture of Pinterest. When you learn what your followers are looking for, you can modify your methods to match their demands and thus create a large number pins that will become popular.
If you're interested, we offer a complete done-for-you Pinterest package that will make sure all your pins go viral on Pinterest.
#6. Learn about popular categories on Pinterest
If you are aware of the most popular Pinterest categories, you will have a good idea as to which group boards you should join to get the best results. Previously, Pinterest used to consist of mainly female members. However, in recent years, the number of male users has doubled, which makes males the fastest growing demographic in regards to Pinterest.
What this simply means is that you should only focus on group boards that are related to your business niche. Avoid any irrelevant group boards.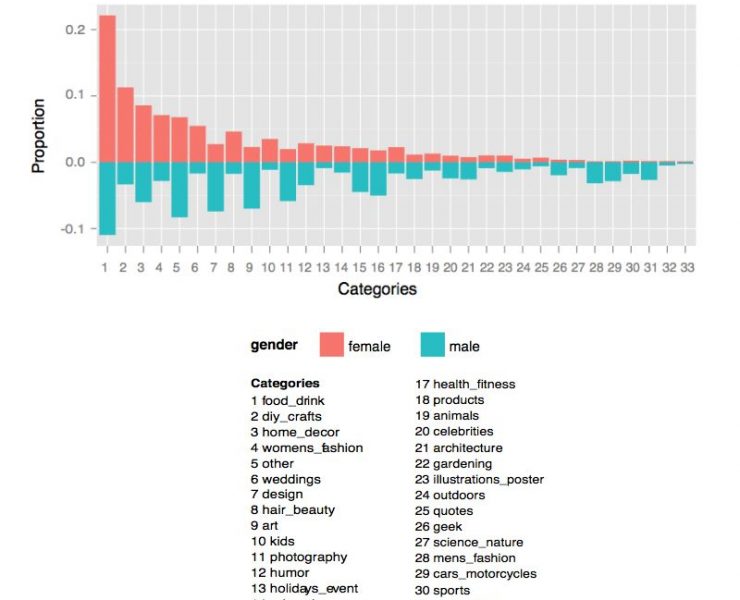 #7. Use impactful images
Since Pinterest is an image sharing site that focuses on user created content, the images that you use from your business account will determine the success or failure of any pins that you share.
We have spent considerable time and resources on understanding how Pinterest images work and the factors that drive traffic and growth. Our viral marketing guide includes all these findings and also helps you create images that work.

#8. Ensure that your image sizes are optimal
Apart from image design and creation, dimensions also matter. All pins have the same width by default, and the length can be as long as needed. Typically, a good size is to aim for an image resolution of 736 x 1102. This is neither too small and nor too big.
#9. Create Instructographics
At times, it is a good idea to use the length of Pinterest images to deliver meaningful content. The word 'Instructographic' was originally coined by Pinterest. It is similar to the word 'infographic'. The reason why instructographics have become so popular is because of their do it yourself attribute which is the second most popular category on Pinterest.
We hope these tips helped you understand the dynamics of Pinterest better. The key here is patience and following the rules. However, if you're looking for a quick solution to all this, our marketing packages are very competitive, and we have hundreds of satisfied Pinterest marketers who use our services. You should also Browse our packages if you want to join group boards without wasting any time.